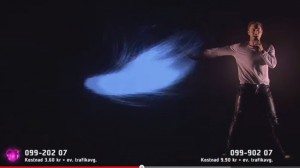 Måns Zelmerlöw will defend Sweden in Vienna come May. Upon Måns' performance, comments about the similarities with David Guetta's hit 'Lovers on the Sun' became a discussion in social media. Add that Måns' voice is quite similar to Sam Martin who is featured on the Guetta track.
Måns Zelmerlöw rose to fame as he was one of the finalists in Sweden's Idol in 2005. This is the third time he competes in Melodifestivalen. 'Cara Mia' (2007) finished third, while 'Hope and Glory' came fourth in 2009. In addition, he led the contest in 2010 adding other presenter duties in Sommarkrysset, Allsång på Skansen and Lilla Melodifestivalen.
Måns Zelmerlöw – Heroes
'Lovers on the Sun' was issued in June 2014. It is included on his latest studio album "Listen," and features the US singer/songwriter Sam Martin. He also sings on 'Dangerous,' and has added vocals on songs with Sultan + Ned Shepard and Dirty South.
My opinion is that Måns Zelmerlöw managed to create a truly contemporary EDM hit, style-wise very close to Avicii, Alesso, Swedish House Mafia and Sebastian Ingrosso. While, I don't expect Avicii to ever compete in Melodifestivalen this could crossover as a pan-European (even global?) EDM hit!
David Guetta featuring Sam Martin – Lovers on the Sun

UPDATE
Måns Zelmerlöw's track moved 16-2 in its second week on the official Swedish singles chart, ahead of his victory. 3.2 million viewers saw the Melodifestivalen final this Saturday.