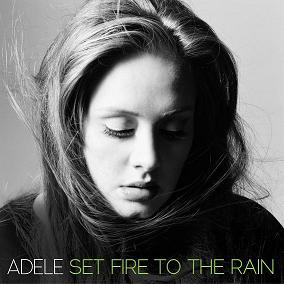 CHART SPOTLIGHT. Following years of decline, sales are finally spiking in the US. It's headline news that the music industry's sales are up according to USA Today. In total, sales were up 8.5% year-on-year according to a recent Nielsen SoundScan/Billboard report. Adele's 21 sold 2.5m copies. Lady Gaga's Born This Way is the runner-up with 1.5m copies.
"Set Fire to the Rain" to Bow This Sunday
Adele is set to return to the UK singles chart this Sunday with "Set Fire to the Rain," the third single off the 21 album. WelcheMusic has tracked a lot of buzz surrounding "Turning Tables," a track co-written and by Ryan Tedder, which was performed on Glee by Gwyneth Paltrow.
"Set Fire to the Rain" follows "Someone Like You" which topped the singles tally in the UK earlier this year becoming Adele's first No.1 in that country ever. While "Rolling in the Deep" peaked at No.2, the track topped the Hot 100 and is currently topping Billboard Songs of Summer Chart. "Set Fire to the Rain" was co-written by Fraser T. Smith who previously penned James Morrison's "Broken Strings" and Tinchy Stryder's "Number 1." "Rain" has already been released as a second single in different parts of Europe. It was released as the third single this Monday in the UK and is expected to bow on Sunday's singles tally. It has topped the singles tallies in Holland and Belgium. So far it has peaked at No.88 on the Billboard Hot 100 and No.21 on the UK singles tally. Adele performed the track live for the first time on April 29 on The Graham Norton Show.
Adele to Join the The Voice UK
Adele is also reported to one of the judges on the UK version of The Voice according to The List. The other two judges are Cee Lo Green and Cheryl Cole. Not confirmed yet. Digital Spy also reports that the singer won't release another album if she's happy.  The source also says that Adele is the first British artist to sell more than one million copies of a single album with 21, her second record. The set is the biggest selling album of 2011 in the US.
Read more about Adele on WelcheMusic:
Listen to Adele via Spotify: