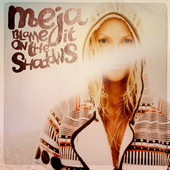 In the '90s, Meja recorded the hit singles 'All 'Bout the Money' and 'Private Emotion' and now she's back. 'Blame It on the Shadows' precedes the upcoming EP 'Stroboscope Sky,' which is set to debut in mid-December. Written by Meja and Nicolas Gunthardt, production is handled by Ebbot Lundberg (former singer of The Soundtrack of Our Lives).
Née Anna Pernilla Torndahl in 1969, she re-named herself Meja at the age of three. It became a legal registered name in Sweden in 1976.
She was initially a background singer for the Swedish group Rob n Raz DLC in 1991.Moving to the US in the early 90s, she returned to Sweden forming the dance project Legacy of Sound.
The 1994 Legacy of Sound album Tour de Force included the track 'The Woman in Me' which was recorded by Jessica Simpson featuring Destiny's Child on the former's album Sweet Kisses (1999).
Legacy of Sound – Happy
'All 'Bout the Money' International Breakthrough
Her eponymous debut album from 1996 was followed by the 1998 sophomore set Seven Sisters. Meja worked with famous industry gurus such as Billy Steinberg, Jörgen Elofsson and Douglas Carr. It included 'All 'Bout the Money,' which became an international hit. The track was actually featured in the Chevy Chase movie Funny Money back in 2006.
Ricky Martin featuring Meja – Private Emotion
'All 'Bout the Money' spent 24 weeks on the Swedish singles chart, peaking at No.4. The set was later issued in the US by the Columbia C2 label. In 1999, Meja hit the charts with the Ricky Martin collaboration 'Private Emotion.' The track was written by Rob Hyman and Eric Baziian, while production was handled by by Desmond Child.
Celebrating her 20th anniversary in the music business, Meja says on her home page that she will introduce new collaborators, new music and a new vibe.
Listen to Meja's 'Blame it on the Shadows' via Spotify