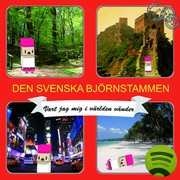 CHART SPOTLIGHT. Den svenska björnstammen gets its major breakthrough this week as they ascend to the top of the singles tally with 'Vart jag mig i världen vänder.' The group consists of seven guys recording melodic electropop with African influences. WelcheMusic really loves it and is amazed as to see a No.1 group with a name translating into The Swedish Bear Tribe.
'Vart jag mig i världen vänder' (Wherever I turn in the world) bowed at No.58 at the end of July. The track has then climbed to 39-22-9-2, only to knock Don Omar & Lucenzo's 'Danza kudoro' off the top spot.
The group hails from Norrköping and was one of the finalists in the music competition Metro on Stage in 2010. Signed by the record label Pop Records, their music is distributed via Universal Music. Last year, they launched the EP Dansmusik including five tracks. It was followed by the other EP Classics.
In an interview in Devotion Magazine from 2010, the group said that 'they get inspiration from Kanye West's Christian stuff. And some niche, obscure things. We're so many in our group, but we're foremost inspired by people we meet. Euro disco clubs are also a great source for information.'
Listen to Den svenska björnstammen via Spotify: