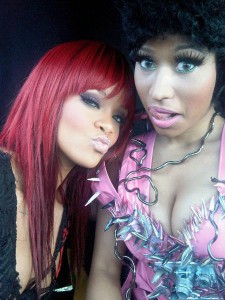 CHART SPOTLIGHT.  'Fly' with Nicki Minaj and Rihanna is currently climbing the charts ahead of its October release. Produced by J.R. Rotem, the track is included on the album Pink Friday. This week it climbs to No.22 on the UK singles chart.
I urge to check out the video – probably one of the most expensive ones around now! And don't hesitate to recap my earlier post on 'Girls Fall Like Dominoes.'
'Fly' will be the ninth single off Pink Friday!
'Your Love' (June '10)
'Check It Out' (Sept '10)
'Right Thru Me' (Sept '10)
'Moment 4 Life' (Dec '10)
'Roman's Revenge' (Jan '11)
'Did It on 'Em' (March '11)
'Girls Fall Like Dominoes' (Apr '11)
'Super Bass' (May '11)
'Fly' (Oct '11)