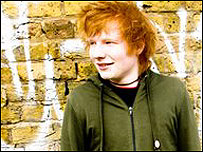 CHART REFLECTION. Ed Sheeran will release + this September. Including 'The A Team' and the latest hit 'You Need Me, I Don't Need You,' the set includes twelve songs. WelcheMusic covered Sheeran's latest single in a previous blog post. 'You Need Me, I Don't Need You' was announced at the Glastonbury Festival 2011 and was first played on Zane Lowe's BBC Radio 1 show this July.
'You Need Me' Single Released in 2009
The single will finally be released on August 28 and is expected to bow on the UK singles chart next Sunday. 'You Need Me' was actually included on an extended play which was released digitally back in 2009. The new version is a re-recording of the track featuring a much heavier beat.
The video is directed by Emile Nava and features the 17 year old Matthew Morgan. A remix featuring Wretch 32 and Devlin will be available as well as remixes made by Loadster and Gemini.
Featured on Lewi White's Debut Single
This summer, Ed Sheeran has also been featured on the 'Young Guns' single featuring Yasmin, Griminal and Devlin. The hip hop/rap track peaked at No.86 on the UK singles tally, while peaking at No.10 on the indie list. 'Young Guns' was the debut single by Lewi White, a British producer.
Charity Single
Via Gogo announced yesterday that Ed Sheeran is among the acts doing a cover of Massive Attack's 'Teardrop.' Others includes Gary Barlow, Tulisa Constavlos, Tinchy Stryder, Wretch 32, Chipmunk and Ms Dynamite. The single is set for a November release.
Listen to Ed Sheeran via Spotify:
Read more about Ed Sheeran via WelcheMusic:
Check out Ed Sheeran lyrics here.