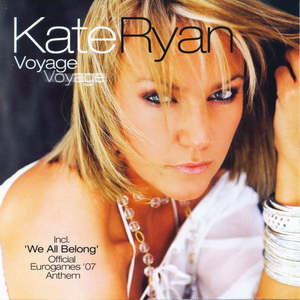 CHART SPOTLIGHT. Expect Kate Ryan to hit the charts anytime soon. Her new single "LoveLife" borrows heavily from the alternative rock band Liquido's 1998 hit "Narcotic." Ryan recently released the new album Electroshock earlier this April.
Née Katrien Verbeeck in the small village of Tessenderlo, Belgium, the 30-year old singer got her debut hit in 2001 with "Scream for Love." Kate Ryan's breakthrough came with a cover of Mylène Farmer's 1991 hit "Désenchantée." Released in 2002, Ryan's cover was the third single off the album Different. The hit peaked at No.4 in Sweden, No.3 in Norway while topping the native Belgian chart.
In 2006, "Je t'adore" was the Belgian entry in the Eurovision Song Contest. It was also the lead single off Ryan's third set Alive. Unfortunately, it never qualified for the final. The track was co-written by the Swedes Niklas Bergwall, Niclas Kings and Lisa Greene. The track peaked at No.21 in Sweden.
Throughout her career, Kate Ryan has recorded many a covers.  In 2007, she released a cover of Desireless' "Voyage Voyage." And in 2008, her rendition of France Gall's "Ella elle l'a" charted across Europe. The singer included the two France Gall tracks "Babacar" and "Évidement" on the greatest hits compilation French Connection from 2009.
According to Last.fm, the most popular Kate Ryan tracks are:
Voyage voyage
Ella elle l'a
Désenchantée
I Surrender
Libertine