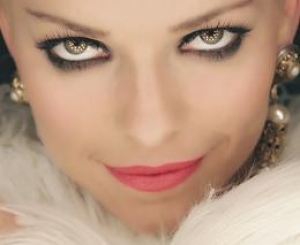 CHART SPOTLIGHT. WelcheMusic closely follows euro disco vocalist September. Since our last entry, the singer has retained the No.1 spot on the Swedish singles tally with "Mikrofonkåt." She has fought off competition from novelty act Sean Banan and the Swedish Idol winner Jay Smith.
httpv://www.youtube.com/watch?v=X4c2xI4WGVE
Don't be surprised if the singer returns to the UK singles chart any time soon. The track has been translated into English further to the success of "Mikrofonkåt." As previously reported, the track was originally released by the Swedish rapper Petter back in 1999.
httpv://www.youtube.com/watch?v=G35-Xm8kt3g
This fall both Petter and September have participated in the national TV show Så mycket bättre, where seven artists perform each other's songs. According to the eminent pop blog Scandipop, "Me & My Microphone" already received its first airplay earlier this month when Scott Mills played it on the Floorfillers show on BBC Radio1.
Earlier today, September tweeted 'News from UK, #meandmymicrophone was played on Christmas Day (again!) Good stuff.' A welcome return to the UK charts, September last entry was "Can't Get Over You" which peaked at No.14. The track was taken off her album Dancing Shoes.
Listen to the original performed by Petter.
httpv://www.youtube.com/watch?v=KAh-orqwFGQ
Read more about September: