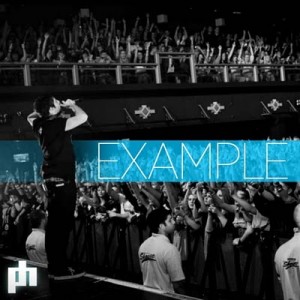 CHART SPOTLIGHT. There is a great chance that the new-found success of Example will open the doors to an international breakthrough. "Change the Way You Kiss Me" performed very well on yesterday's UK singles tally, selling 115,046 copies last week. It's the highest tally for a number one for 10 weeks and the first single off Examples third album according to Music Week. Knocking Pitbull, Ne-Yo, Afrojack & Nayer off the No.1 spot, this is Example's first ever UK No.1.
Name Actually Reins from Latin Initials
Née Elliot John Gleave, this 28-year old rapper got his name from his initials e.g. – "for example" in Latin. Primarily a UK success story, Example has been featured on various with the likes of Professor Green, Tinchy Stryder, Skream and Wretch 32 whose "Unorthodox" peaked at No.2 only recently.
Example's 2007 set What We Made made it to No.125 on the UK album tall, including the track "No Sleep for the Wicked" which borrows heavily from Kylie Minogue's "Confide in Me."
First Album Produced No Hits
The album didn't produce any hit singles, despite "I Don't Want To," "So Many Roads" and "Me & Mandy" were released.
His breakthrough hit came in2009 when "Watch the Sun Come Up" peaked at No.19. It was followed by the No.6 hit "Won't Go Quietly" and the No.3 smash "Kickstarts." Both were released in 2010. "Changed the Way You Kiss Me" is the first single off the upcoming set Playing in the Shadows. The next single is expected to be "Scream My Name" featuring Dev (of  "Like a G6" fame).
According to his own blog Try This For Example, the rapper is set to embark on a tour this fall. Rumors say that he belives Cee-Lo Green to be the coolest guy!
Listen to Example: